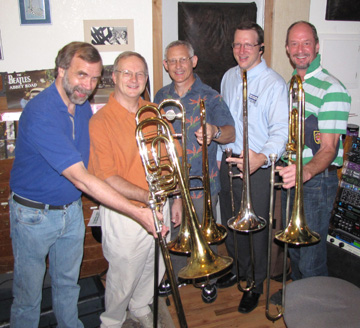 About The Bexar Bones
The idea for The Bexar Bones came to fruition during the summer of 2008 when former Jim Cullum Jazz band trombonist, Mike Pittsley, decided that it was time for South Texas to have a polished, well-rehearsed trombone ensemble. It's our goal to showcase the capability and sound of the trombone, the most beautiful and versatile of all the brass instruments.
The Musicians
Mike Pittsley - tenor trombone
A Northern California native, Mike Pittsley began playing trombone at the age of 10 and started playing professionally while still in high school. Just into college, Mike had already established himself as an in-demand freelance trombonist in the Northern California area and became a regular with the pit orchestra at the Sacramento Music Circus, a summer stock tent theater presenting Broadway musicals such as Paint Your Wagon, The Music Man, Irene, Oklahoma, Guys and Dolls, etc.
In early 1978, Mike was invited to join The Jim Cullum Jazz Band, where he remained until 2000. While on the Cullum band, Mike performed on over 100 broadcasts of Riverwalk, Live from the Landing with some of the finest musicians in the business, such as Dick Hyman, Lionel Hampton, Bob Wilbur, Bob Barnard, Joe Williams, Dan Barrett, Bob Havens, Benny Carter, Marty Groos, Kenny Davern and Milt Hinton.
Upon leaving the Cullum band in 2000, Mike resumed his freelance career. Although known primarily as a jazz trombonist, Mike can be seen performing in a wide variety of musical settings, from section work in a big band, to classical music in brass ensembles and chamber groups.
Mike is an artist for the Edwards Instrument Company and plays a T302 Edwards trombone with a Doug Elliott mouthpiece combination.
Click here to send email to Mike Pittsley
David Deering - bass trombone & tenor trombone
A professional trombonist since 1981, David Deering has performed with Ray Charles, Burt Bacharach, Dionne Warwick, Carol Channing, Steve Allen, Debbie Reynolds, Robert Goulet, Johnny Mathis, Maureen McGovern, Mel Tormé, and others. He was a featured soloist with the UIW Cardinal Big Band at the 2009 Montreux Jazz Festival. In San Antonio, he performs regularly on bass trombone with the San Antonio Jazz Orchestra and the Prime Time Jazz Orchestra.
Click here to send email to David Deering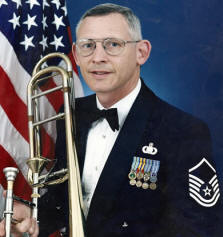 Mark Hill - tenor trombone
Mark Hill served for over twenty years as trombonist with the Air Force band program., performing as a trombone soloist in concert bands, chamber ensembles, pop music groups, jazz bands, and jazz combos.
Mark has performed with a number of world-class jazz and classical musicians, including Rob McConnell, Eric Marienthal, Alan Vizutti, Dave Steinmeyer, Nicholas Payton, Conrad Herwig, Arturo Sandoval, Peter Schickele, Harvey Pattel, Jack Stamp, Anacani, Toni Tenille and Andy Williams.
After retiring from the Air Force in 2005, Mark returned to teaching and currently teaches music at West Avenue Elementary School with the Northeast Independent School District.
Mark continues to work as a freelance trombonist in the San Antonio area and has provided volunteer assistance with the San Antonio Youth Jazz Ensemble since its inception in 2005.
Mark is currently a regular performer with the Primetime Jazz Orchestra, the Ed Sherry/Todd Dunn Big Band, The University of the Incarnate Word Jazz Ensemble and the San Antonio Jazz Orchestra.
Click Here to send email to Mark Hill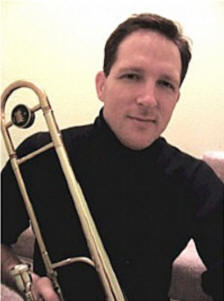 David Kline - tenor trombone
David Kline was born into a musical family November 24th, 1970 in Kingsville, TX and is the son of legendary San Antonio, TX classical trombonist, Peter Kline.
While pursuing a computer science degree at North Texas State University, David continued his study of the trombone and played with the NTSU lab bands. David is a fan of the late J.J. Johnson and is one of the primary jazz soloists with The Bexar Bones.
In addition to various local casual playing engagements, David performs regularly with the Primetime Jazz Orchestra and the Ed Sherry/Todd Dunn Big Bands.
Click Here to send email to David Kline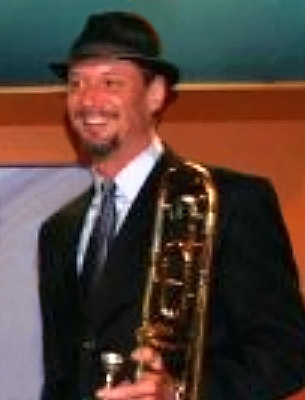 Dave Woodard - tenor trombone
Dave Woodard hails from New Orleans and brings its special musical flavor to The Bexar Bones. Dave is a regular member of local San Antonio bands, Johnny P. and The Wiseguys and the Primetime Jazz Orchestra.
Click here to send email to Dave Woodard